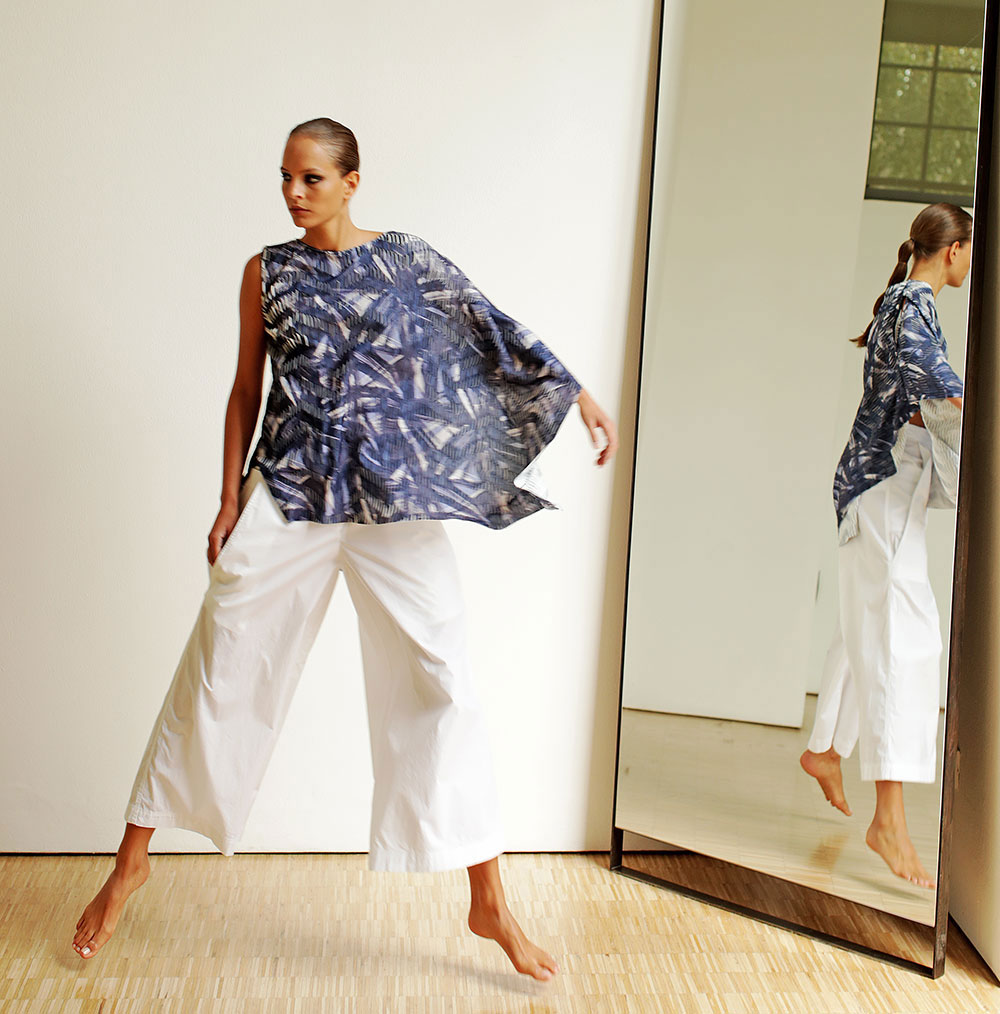 "The word SUMMER simply is one of my favorite ones", says Stefano Mortari.
TThe new S/S 2020 Collection is inspired by the Mediterranean Nature and by its original and most distinguished elements: the clear sky and the bright sun.
A contrasting game of natural colors plays with the palette conveyed by the beautiful season, going from full daylight to shadowy tones.
A theory of chromatic binomials -such as black and optical white or black and powder, blue and ivory or blue and chalk- is skillfully displayed throughout the Collection.
These contrasts are not only reached with colors, but also as an experimentation with drawings and patterns.
A fine mix of prints -with a reminiscence of the palm leaves reinterpreted in an abstract way as to create optical geometries- is displayed on dresses, sweaters and on jerseytattoos.
Classic shapes are revisited with a contemporary taste, from white shirts to dresses in cotton canvas, from clothes in fluid jersey linen to comfort sweaters, all to be
comfortably worn on the fresh skin.
Light ripples or wide folds, cuts and overlaps are the main theme that, like waves of the sea, crosses shirts and skirts and dresses, creating graphically appealing shapes and patterns.
The "Tattoo Capsule" displays tops, t-shirts and dresses with a very feminine and floreal print on a fine stretch fabric.
A continuing dialogue with Ermanno Gallamini- by Angelo Gallamini is bringing together two creative worlds again, creating aspirational clothes that emphasize human touch, the
unfinished and a handcrafted uniqueness.
Much of Stefano Mortari's work on this Collection consists in balancing the feminine and the androgynous, its elegance refrains from an indulgent fashion aesthetics.
A relaxed and soft image, although rigorous and with harmonious style contrasts